How our vectorization service works, step by simple step
For each client that we look after and for every project that we take on our team follow the same stringent process to produce super shiny vector graphics. Below is a full overview of what to expect from this service, step by simple step. And if you still have questions then vectorize images support team are here on hand to help, simply pop them a message via our contact form.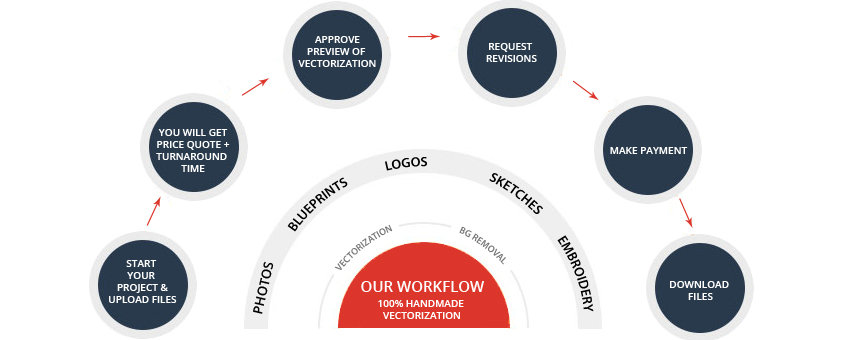 Our Workflow
1. If you're looking for a fast, efficient way to vectorize your images online then our service is the answer. We can take care of conversions from jpegs to vectors or any other bitmap format of your choice. Check out our portfolio of work to see for yourself what results our vector conversion services can produce.
2. To begin your project please head on over to the home page of our website and fill out the project form. To this you will attach your file(s) to be vectorized and you'll additionally include details such as your name, email, subject of the project and any message you wish our team to read.
3. Wait for a few hours or so whilst our team prepare for your project.
4. If there is anything found to be missing from your message our support team will be in touch to ask you for the missing information.
5. Otherwise you shall receive a quote for the job sent directly to your inbox, along with an associated job completion time.
6. If you're happy with both the turnaround time as well as the price for your vectorized image then we'll send along a vectorized preview of your image, sketch, photo or logo for you to approve.
7. At this stage you can let us know of any further revisions or modifications to your newly vectorized image.
8. Once you're happy with the project and your vectorized image then you can go ahead and pop along payment to the team for their work (this is done via PayPal for your complete peace of mind).
9. Following payment we'll deliver vector, CAD and high resolution raster files directly to your inbox.
10. If we've impressed you with our wizardry vectorization services then please consider giving us a like, follow or share over social media.
Vectorisation services for your images, sketches, photos and logos; all at affordable prices; from beginning to end our vectorization service ensures that you receive a high quality vector version of your file, in the shortest time possible and all undertaken by our pros.
Still have questions?
If there's something that you still don't understand about our service, or if you have a question or query, then our customer support team will be only too happy to help. Send them a message now and they'll be right back in touch as soon as they can. Additionally you may want to check out our handy FAQ section.