Our service can help you turn your sketch into vector format for web and print usage! Ask for a free price quote, and let us convert your sketch to a professional, digital illustration that you can proudly present to your friends or use for a company presentation.
---
1. Free sample of vectorization
2. Ai, Eps, Pdf & svg output formats
3. 100% manual vectorization
4. Free 24/7 online support
---
Sketch to vector features
1. Clean and straight lines
Drawing on paper, unfortunately, cannot produce nice, clean lines. Let our designers redraw your sketch with the help of digital tools. This way, you will get a professional image with precise lines and shapes that you can proudly present to anyone.
2. Adding colors to sketch
Do you have a nice, colored logo in mind but lack the skills or tools to take your black & white sketch to the next level? Don't waste your time coloring it by hand. Our vectorization service can digitally color your image with the right colors, so it will look nice and vivid after printing.
3. Fixing and improving your sketch
Did you forget to add something to your drawing? Are you not satisfied with the look of your sketch? Do you want to change or add colors to your sketch? We can help you create exactly what you want or need. All you need to do is provide us detailed instructions on your desired logo or illustration.
4. Digital formats for print and web
Computer scanners can produce only bitmap scans, so, if you are wanting to print your sketched logo, t-shirt design, or illustration, then you need our vectorization service. After a vector conversion of your scan, we will send the final product to your email address, including all common vector + cad formats (ai, eps, pdf, svg, dxf & dwg).
Why choose this service
1. 100% scalable image
Any modification or enlargement of a bitmap sketch will automatically reduce its quality. Blurriness and graphic artifacts are common when you try to edit or enlarge bitmap images. Vectorized sketches, however, will look 100% perfect at any size. You can print your art on business cards or billboards, and the image will always look top notch.
2. Print ready
Vector images, sketches, or logos are not made by pixels, so you don't have to worry about DPI (dots per inch). Bitmap images with low DPI can create a disaster when printing. Because of this, all printers suggest supplying vector files that are always clean and sharp when printing, no matter the size.
3. Resolution
Scanned images or smartphone photos of sketches tend to be blurry, pixelated, and generally are of low quality. Vector files, on the other hand, can be scaled to any size without any loss of quality. Vectorization of a scanned sketch can drastically improve the quality of your art and provide a professional look to it.
4. Flexible file format
If you have only bitmap files of your sketch or logo, then you are very limited in what you can do with it. If you have vector files, then you can easily create transparent files for the web in the right size, create high-resolution tiff files, pdf files for fine print, or dwg/dxf files for laser engraving. Images become much more useful after vectorization.
Some things we've done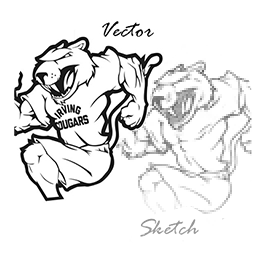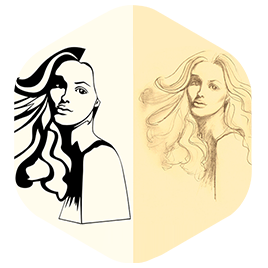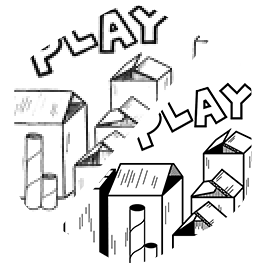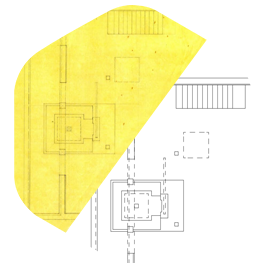 Frequently asked questions
?
1. What does vectorization of a sketch mean?
Vectorization of a hand-drawn sketch is a great way to turn your imperfect logo or illustration on paper into a stunning digital form. The beauty of converting a sketch to a vector file is that it can be enlarged or reduced to any size without losing any of the original appeal of the hand-sketched image! The ability to resize the image makes the image more usable. Printers typically ask their customers for vector files (ai, eps, pdf, or svg) and not bitmap images (jpg, png, tiff, or bmp) that cannot be resized without reducing the quality of the image. This is especially important when you want to create large projects, like posters, billboards, or even t-shirts.
?
2. Don't waste your time with logo designers who cost hundreds of dollars
Many people have great ideas and would love to create their own logo, instead of having an advertising agency do it, but they lack the tools or skills to do it properly themselves. Our vectorization service can help you convert your logo to digital format at an affordable price.
?
3. Can you make my sketch look more professional?
The beauty of hand sketch to vector conversion is that the process is based on geometric and mathematical objects, which curve the vector image. This will compensate for any lack of symmetry in the original image. This will correct for "too many" pencil strokes and other flaws. It will be your original image but better!
?
4. Can you fix imperfections or edit my sketch?
The original sketch can be corrected. We can also add color, shadows, or make other improvements to your image. Vector imaging is an ideal way to create your logo, because the image can be translated to any size, making it an ideal way to add your logo to everything from sticky notes to wraps for a vehicle. There are tons of options for editing or changing your sketch during vectorization, so please let us know any ideas you may have or changes you want to make.
?
5. Will my sketch look perfect at any size without unnecessary blur and pixelation?
When you let us convert your sketch to vector, what you can expect is a cleaner, crisper image that uses mathematical precision to match your original sketch. You don't even need to start with a perfect image to get the end result that you want! Our professional vectorization service can take your hand-drawn sketch that is a bit rusty and clean it up, add some final touches, and produce the vector that you truly want and need.